The Winston School San Antonio Presents
34th Annual Learning Symposium
"Belonging and Neurodiversity"
Friday, January 26, 2024
8:30 a.m. to 3:35 p.m.
in-person event
With Keynote Speakers
Presenting "Building a School Where Everyone Belongs"
Every teacher wants their classroom to be a place where each student can belong however, creating that belonging can be challenging. This presentation provides proven strategies for addressing each student's unique need for belonging and creating a community where everyone is included.
Join clinical psychologists and relationship experts Dr. Kyler Shumway and Dr. Daniel Wendler as they teach practical tools for helping students find their place. Learning new insights into our psychological needs related to friendship, helpful strategies for creating spaces where everyone can belong, and effective techniques to build genuine inclusion, even for students who struggle with behavioral and social difficulties. Discover the pathway to real belonging in your classroom and beyond.
Licensed Psychologists and celebrated Authors of Books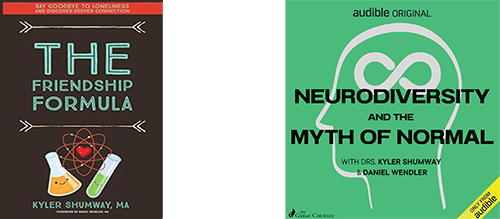 Dr. Kyler Shumway is the President and Chief Clinical Officer of Deep Eddy Psychotherapy, one of the leading outpatient mental health practices in Texas. He is a bestselling author who recently published his third book, The Science of Friendship, as an Amazon Audible Original series. He has been featured by Forbes, The New York Times, CNN, and more for his work in combatting the loneliness epidemic. As a licensed psychologist, thought leader, and TEDx speaker who has spoken to audiences across the nation (as well as internationally), his mission is to help people learn to love themselves and others, build satisfying and meaningful relationships, and find a place of belonging.
Dr. Daniel Wendler is a best-selling author, nationally recognized keynote speaker, and a proud autistic self-advocate. He is the author of two books (Improve Your Social Skills and Level Up Your Social Life), a two-time TEDx speaker, and the co-author of the upcoming Audible lecture series "Neurodiversity and the Myth of Normal." In addition to his writing and speaking, Daniel works as a clinical psychologist specializing in autism, neurodiversity, and social relationships. Connect with him at DanielWendler.com.
The Symposium is an affordable, engaging opportunity for teachers and counselors to earn professional development hours while acquiring valuable education tools targeted for all students—not only those with learning differences.
Registration will open on November 1, 2023.

For more information contact us at outreach@winston-sa.org or call (210) 615-6544
---
Breakout Sessions:
After the keynote presentation, there will be 6 Breakout Sessions on different topics to choose from such as adolescent development, executive function, dyslexia, behavior, and belonging from local researchers and professionals.
---
Please click here to download the save-the-date postcard
---

Sponsorship opportunities are still available please contact Sonia Leal at sleal@winston-sa.org
or call (210) 615-7485 to learn more
---
Each year, the Winston School San Antonio and EMSAC work diligently to plan Winston's Learning Symposium — an educational event that provides the community with access to cutting-edge research and tools to help educate students with learning differences.
The Symposium allows us to extend Winston's reach by providing important information to parents, education professionals, and others from across the state. Each year, the event features nationally renowned professionals and breakout sessions hosted by a select group of local professionals.
32nd Annual Symposium Feedback
31st Annual Symposium Feedback
Continuing Education credits are available for teachers, counselors, and social workers.
Video presentations from previous years are available, please click here to learn more.
For more information please contact us at outreach@winston-sa.org or call (210) 615-6544